Stage Curtains & Skirting
PHANTOS provides customised premium drapery for both minor and major projects such as theatres, casinos, auditoriums, schools, colleges and universities, churches, chapels and other houses of worship. We also produce curtains for special events, public arenas, live shows, concerts, and other appropriate places. Our highly qualified and skilled staff are aware of all the details that are required and how the curtains should be installed, to match the requirements of different areas, hence, we can quickly help you through layout, production, and installation of your custom curtains.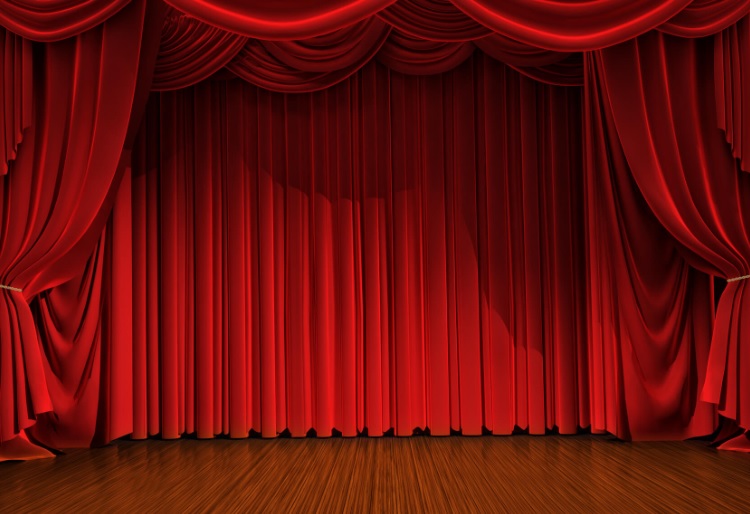 Main Curtains
Main Curtains, which are also known as Grand Drapes, Front Curtains, Proscenium Curtains, Act Curtains, and House Curtains is a style of drapes that is used as a vision and sound barrier amongst the viewers and the stage. They enrich the magnificence of the space and they are the interest factor for the audience prior to a performance. Usually, these curtains are planned and crafted to enhance the tone theme and decoration of the establishment, thus we provide them in a variety of colours, per your needs.
Masking Curtains
Masking Curtains are usually located behind main curtains and as the term suggests, their intention is to "mask" or cover stage gear and lights, plus off-stage areas. In addition, these drapes support light absorption and when fabricated out of a napped fabric, they can even help restrain sound resonance. Simultaneously, side masking screens or mid-stage travellers help modify the proportions of the stage and are often utilised to create side entrances to the stage.
Stage Skirting
Stage Skirting is excellent for providing your stage with a professional and smooth look. Our selection of stage skirts is developed for convenient fit onto our KKM Stages, but can further be applied in a series of additional staging uses and on stage decks by other brands. Implementing a premium Velcro strip, our skirts can be attached and detached in seconds. Using a fire resistant polyester, that has been pleated, grants a secure and durable end product, suitable for covering all cables, legs and any other thing you'd wish!
Every single curtain sewing project is tailor-made and consequently executed with personalised interest. We chose to operate with 2 types of fabrics, both of which were treated to be fire-retardant, and that each is required for specific stage configurations and preferences. Our selections consist of the robust 500g/sqm wool serge and the gorgeous 350g/sqm velvet velour. Velvet stage curtains are the most popular form of light-weight drapes that are used in theatres that want to impress the crowd with a lush and elegant look. On the other hand, there are heavy wool curtains which are strong and durable, they cater an alluring image, plus they grant excellent acoustic elements.
Cyclorama
The Cyclorama (Cyc) is the largest sized solitary piece of scenery (often a landscape, the sky or an endless distance) on stage. It is comprised of an upright surface that is designed to create the background for a theatrical style environment, commonly constructed of heavy fire proof material firmly pulled to obtain a slick and leveled surface. It is worth mentioning that cycloramas aren't fully opaque seeing that they are mainly intended for light rebound and gobo projections. Each time utter light block is needed, a bulkier fabric should be implemented.
Projection Screen
A projection screen is a system that is composed of a projection surface and a support arrangement used for presenting graphics for the crowd to observe. These screens can be equally temporarily (semi-permanent or portable applications) and permanently installed. Projection screens are almost completely white, in order to prevent any kind of tinting to the picture due to coloured background. The display is produced with vinyl, ideal for both front and rear projection.
Since every curtain's aspect is unique, it is only natural that its accompanying track will be customised as well. Our company believes in ease and convenience so we pair our drapes with both high-quality manual and motorised tracks, that open and close with the press of a single button, depending on your needs. The track's specifications will be established by the curtains' dimensions, weight and whether it is straight or curved. Regardless of the curtain track being for a theatre, auditorium, school or any of the pre-mentioned applications, PHANTOS holds a full line of top-notch curtain track systems and hardware including motors, ropes, pulleys, carriers, and hangers that match any style of drape or installation, and provide longevity, as well as, smooth and reliable performance.
Our support does not cease after the curtains' setup. We stay in touch with our clients and even help them with any maintenance, thereby all of our curtains come with a 10-year limited warranty! Our goal is to assist you in bringing your dream curtains to life and to fulfil all of your demands.