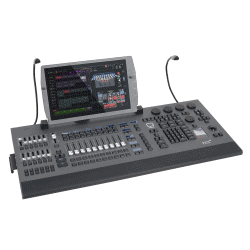 Obsidian NX4 Console for TLS Productions
TLS Productions is a well-known name in the event hiring and sales field in Perth, Australia. With nineteen years of experience of organizing large events, it excels as a lighting and audio-visual equipment provider for various events such as corporate functions, concerts, festivals, fashion shows and many more. TLS Productions has purchased an Obsidian ONYX NX4 lighting console system from Phantos to add to its range of equipment.
ONYX NX4 is yet another featured lighting board of the innovative ONYX platform from Obsidian Control Systems. Obsidian Control Systems incorporates more than 25 years of experience of developing professional lighting control solutions for automated and stage lighting fixtures. The NX4 console is feature-rich control surface and includes a high-brightness full HD multi-touch screen; full keypad and command section and a dedicated grandmaster.
The ONYX NX4 uses the latest industrial components in its system including new Inter Hexa-Core processor, high-speed NVMe SSD drive and 16GB of DDR4 RAM. The highlight feature of this console is its ability to support up to 128 Universes of DMX calculations directly from the internal processor without having the need of costly external processing networks. The console is quite compact having dimensions 928 mm x 149 mm x 431 mm (w x l x h).
The Onyx NX4 is ergonomic with its motorized playback faders, short depth, easy screen access, full ONYX command, and keypad section and bright adjustable HD touch screen. NX4 has all the connectivity and power which is the primary requirement of the ever-increasing show sizes. It is a ready-to-use console and can be operated readily without any prior preparations. There is an array of 44 playback buttons neatly arranged in a compact design.
Alongside, there is a combination of motorized and manual faders which gives the advantage of smooth handling to the user. There are two playback sections which are easily accessible. The main playback with 10 motorized faders plus 10 play-pairs allows for quick page changes while the sub playback with 12 faders and 12 button playbacks allows important cues to always be at the user's fingertips for easy and hassle-free operation.
Please feel free to contact us, if you have a requirement of an advanced lighting console system for your stage show/event. Phantos is the Australian distributor of ONYX products from Obsidian Control Systems.