Truss and Lighting for Freak VR
FREAK Entertainment is a virtual reality (VR) gaming company, that combines cutting edge multiplayer games, incredible 4D effects and curated physical spaces to enable venturing beyond reality. It delivers immersive, multiplayer VR experiences with world leading games and escape rooms. It offers entertainment, fun and experiential learning in their virtual reality centers at multiple locations in Australia.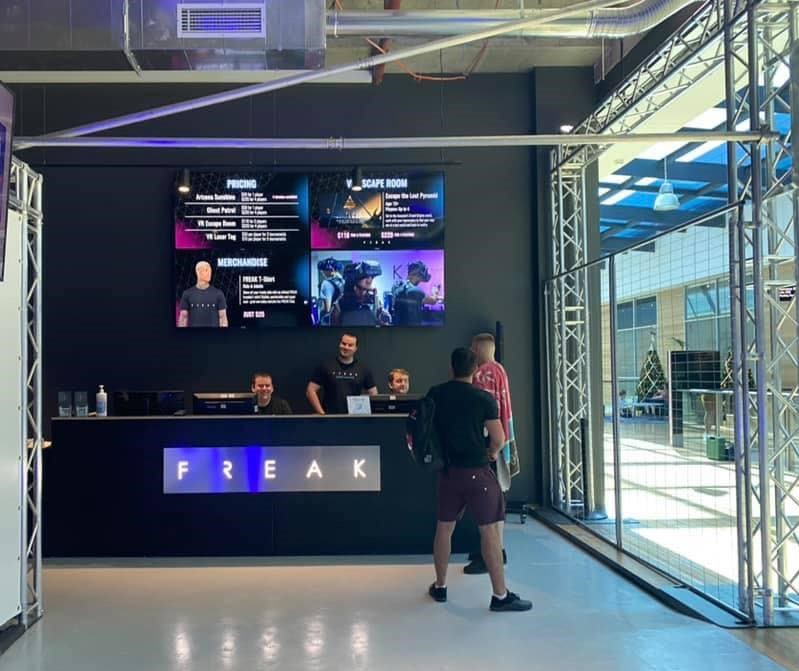 We have installed a Truss (an assembly of beams or other elements that creates a rigid structure) for the Bondi center of FREAK VR. It consists of 12 nos. WU-RS4061 Aluminium Profile 23.5W*16H with Clear Cover and End Caps (1.0M Sections) and 18 nos. KKM 360 Wrap Around Clamp (Medium Duty 100 Kg) for 50mm Tubing to give the structure a strong support.
(Actual Images)
A powerful lighting system has been setup by Phantos at the venue which contains 10 nos. Blizzard Lighting RokBox 18X10W RGBW LED PAR along with 4 nos. World Unique Epistar SMD5630 LED Strips (IP20, 10MM, 60LEDs/M, 6M, 3300Lm/M, 15W/M) and 2 nos. Meanwell LRS Series LRS-100-12 100W Single Output Switching Power Supply.
RokBox RGBW version comes fitted with 18×10-watt RGBW quad color 4-in-1 LEDs, advanced electronics, and dual hanging brackets with secure grip locking knobs. The RokBox 18x10W RGBW LED PAR comes with a super-easy to use built-in 4-button LED control panel that also allows total control over the fixture including master/slave settings, sound active mode, built-in programs, auto mode, custom RGBWA color mixing, and user adjustable fade/strobe effects.
(Images are for illustrative purposes only)
LRS-100 series serves as a high price-to-performance power supply solution for various industrial applications.